Tennis training teaches children discipline and dedication to reaching the goals in sport and in life. As most physical activity, tennis classes for kids are very beneficial for health and well-being of children.
OTK Junior tennis camps tend to accommodate children of ages between 6-16 and all levels of ability. Tennis summer camps teach campers proper footwork and the required body mechanics in addition to other fundamental skills required for this sport. Campers learn how to play not only as singles but also as doubles. In our camp the main focus is tennis but we also offer other activities such as swimming, kids Olympics, fitness training among others, to make the program more fun and interesting for kids.
OTK activity camps week 8, 13, 25, 26, 31, 32 and 51
Welcome to camp for juniors at OTK !
Our focus is on tennis, but we have a lot of other activities for those who think 4 hours on the tennis court every day gets a bit too much!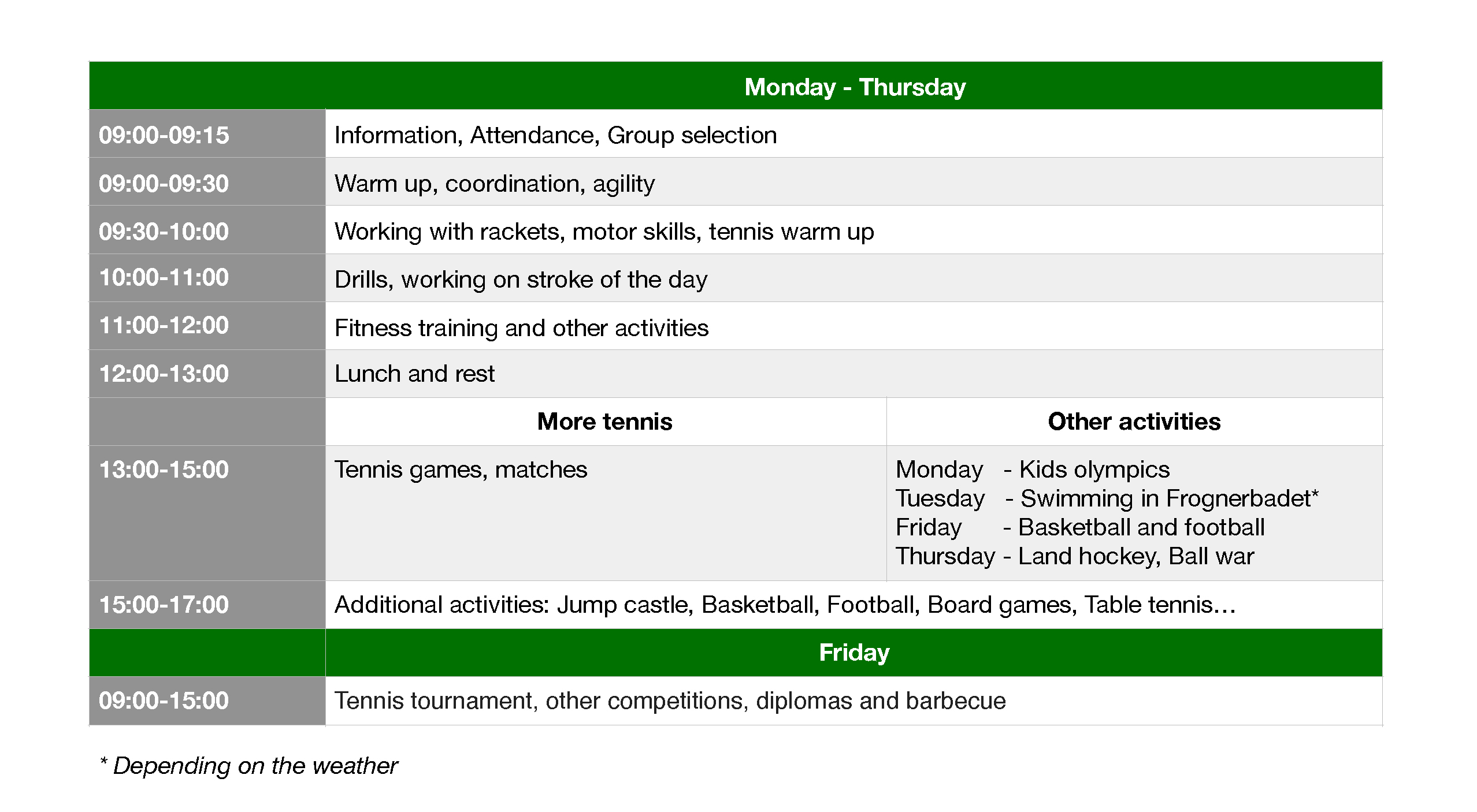 Tennis plan
Monday: Forehand + Serve
Tuesday: Backhand + Serve
Wednesday: Volley, Smash + Serve
Thursday: All strokes practice
Other information
It would be nice if everyone is in OTK at least 5 minutes before we start.
The kids can be picked up from 15:00, but they must be picked up before 17:00.
Bring a water bottle, lunch, any fruit/snacks for the afternoon. We sell juice, mineral water, and ice cream. We also serve sliced ​​fruit.
Bring tennis shoes, shorts/skirts, rainwear, warm clothes or rainwear in case of rain.
We have rackets on loan for those who do not have their own.
Bring a good mood and sporty attitude!
Prices 2021 – Camp for kids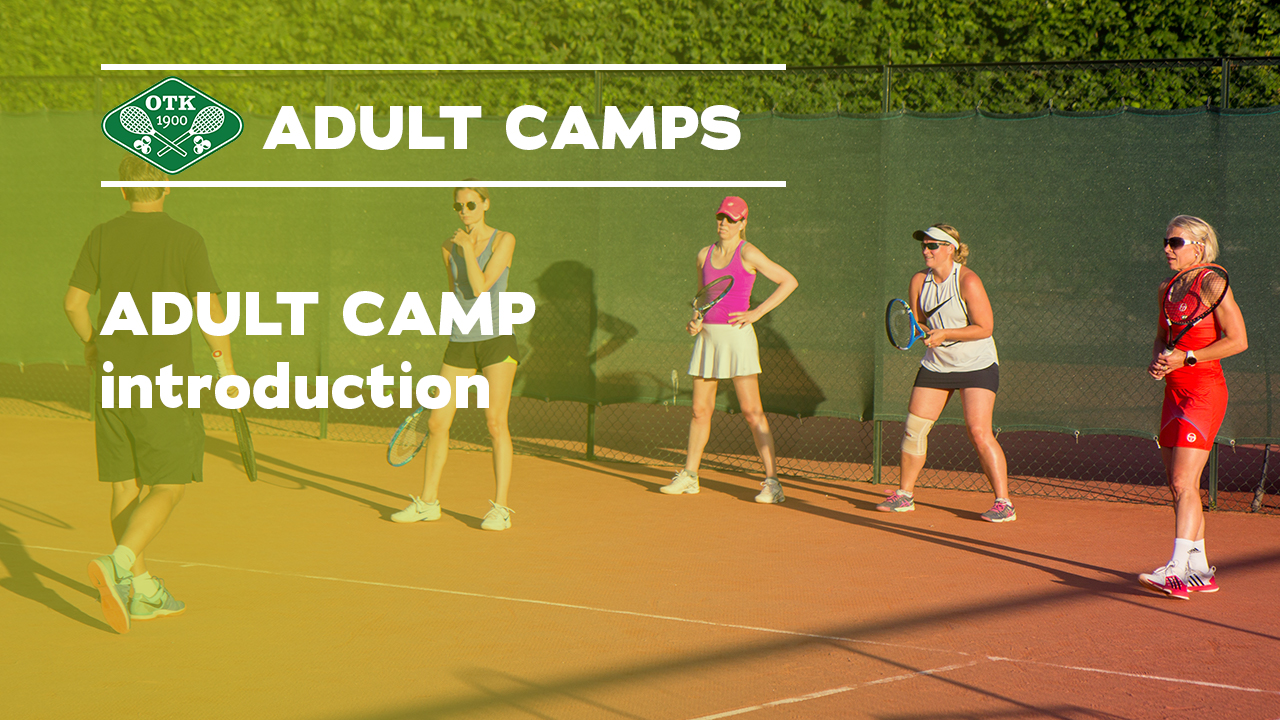 Tennis is a perfect sport activity for those who want to have an active lifestyle and bring some competitive excitement to their lives.
Adult tennis camps can help you sharpen your tennis skills while having an amazing time. Our Intensive 4-day adult training focus on sharpening tennis skills, depending on your level. These include specific tennis drills to fix the "old bad habits", learn something new, evaluations, and over all work out in a social environment.
Program:
After a warm-up, players are divided in a group of similar level and send to the assigned court. On each court we focus on a different kind of stroke and type of execution, after approximately 25 min all groups swap the court, so you get variety and complex experience to improve your game. 
All our camps are from Monday – Thursday, 17 – 18.30 and 18.30 – 20.00 in weeks 8, 13, 25, 26, 31, 32 and 51.
On Monday we usually work on Forehand plus serve,
On Tuesday is Backhand plus serve,
On Wednesday is Forehand, Backhand plus volley, smash and serve,
On Thursday is a mix of all strokes plus point play.
Prices 2021 – Camp for adults
1,5 hours every evening, 4 days

Registration
Sign up for activities using the link below: https://www.matchi.se/facilities/oslotk#activities
Sign up by clicking "Login" on the activity you want. If you are already registered in Matchi, you can only use email and password to log in. If you are not registered select "Sign up"
If you already have the Oslo Tennis Club as a favorite, you can simply press the OTK logo. If not, you must write "Oslo" in "select a building, city" under "Upcoming bookings". Then select "Oslo Tennis Club" and press "smash"
Scroll down to "activities" at the bottom of the page and press "Book". Follow the instructions further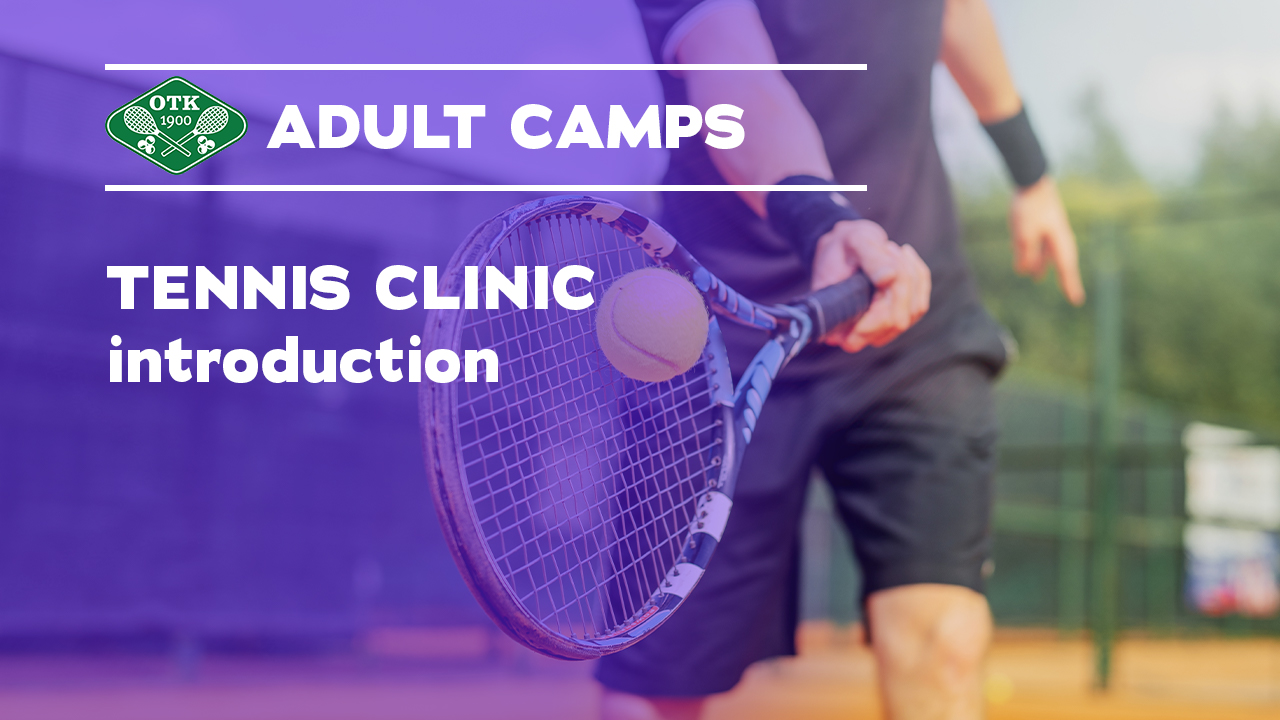 Tennis Clinic is a great opportunity to improve your technique on all strokes by hitting lots of balls focusing exclusively on a particular stroke during one session. We will offer a rotational stroke system, every week deferent stroke, including forehands, backhands, volleys, serve & return.