We invite you to a minicamp on the outdoor courts in the easter holiday (March 29-31) unless new corona restrictions make it impossible. The camp is for players born between 2002 and 2014. You can sign up for 3 days. The registration is done in Matchi.
@Facebook
FEB 22 AT 10:45 AM UTC+02 – FEB 26 AT 4:45 PM UTC+02
@Facebook
Green/Yellow practice between 11:00 and 13:00, 2 hours every day. The camp will be split into green and yellow groups. The time for each player will be decided Friday 26 March.
Read more about our Arena project.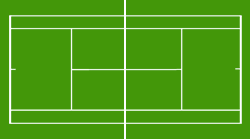 Courts are booked with booking system on this website. All members must have recieved a registration e-mail from our supplier Matchi