Tennis training teaches children discipline and dedication to reaching the goals in sport and in life. As most physical activity, tennis classes for kids are very beneficial for health and well-being of children.
OTK Junior tennis camps tend to accommodate children of ages between 6-16 and all levels of ability. Tennis summer camps teach campers proper footwork and the required body mechanics in addition to other fundamental skills required for this sport. Campers learn how to play not only as singles but also as doubles. In our camp the main focus is tennis but we also offer other activities such as swimming, kids Olympics, fitness training among others, to make the program more fun and interesting for kids.
OTK activity camps week 26,27,32 and 33
Welcome to camp for juniors at OTK Week 26,27,32 and 33!
NB! The program may be substantially altered if the strict infection rules from April are still in effect during summer. This can affect activities, number of hours per day, and the price. All this will be clear about one week in advance of each camp. The camps are invoiced the week after the camp.
Our focus is on tennis, but we have a lot of other activities for those who think 4 hours on the tennis court every day gets a bit too much!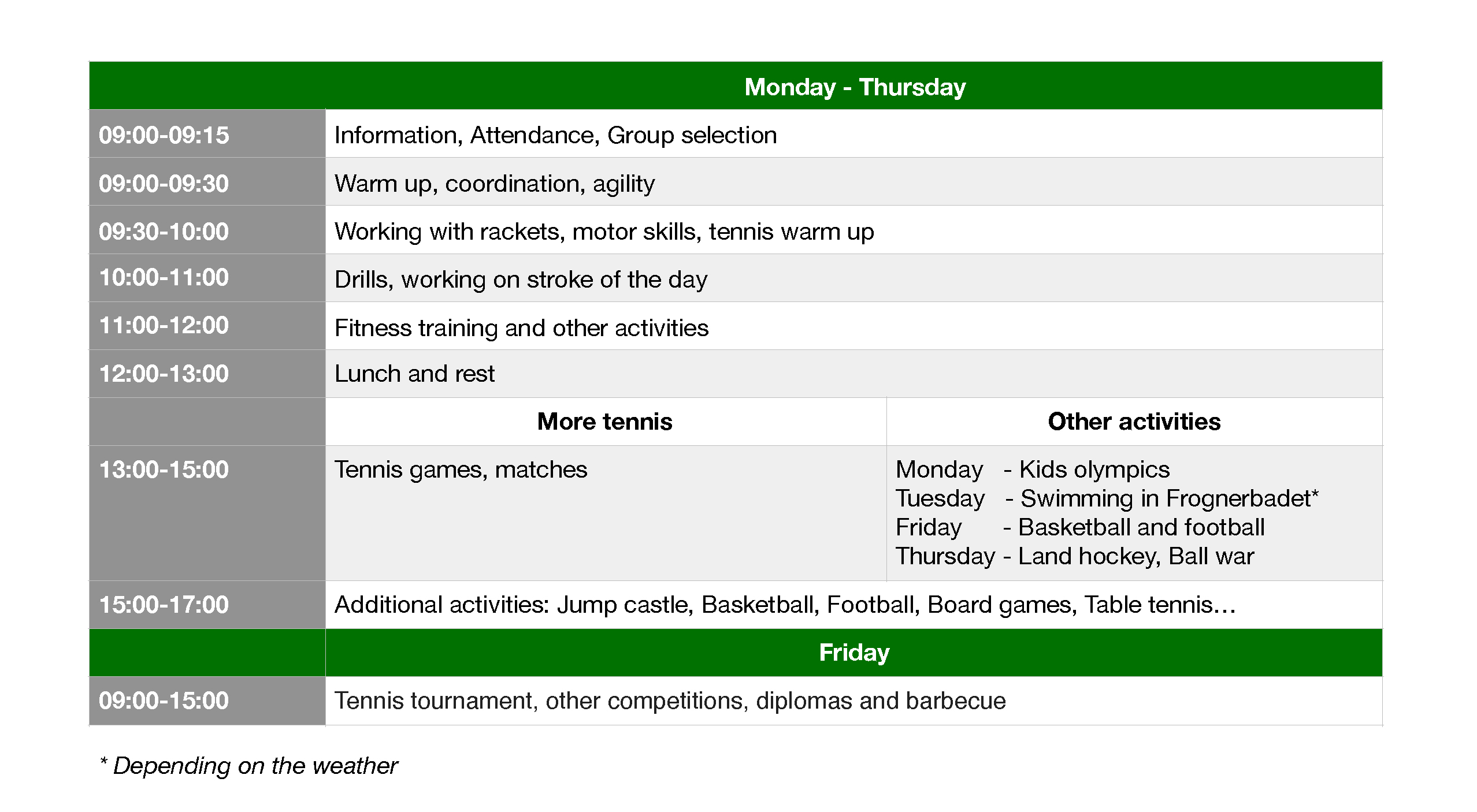 Tennis plan
Monday: Forehand + Serve
Tuesday: Backhand + Serve
Wednesday: Volley, Smash + Serve
Thursday: All strokes practice
Other information
It would be nice if everyone is in OTK at least 5 minutes before we start.
The kids can be picked up from 15:00, but they must be picked up before 17:00.
Bring a water bottle, lunch, any fruit/snacks for the afternoon. We sell juice, mineral water, and ice cream. We also serve sliced ​​fruit.
Bring tennis shoes, shorts/skirts, rainwear, warm clothes or rainwear in case of rain.
We have rackets on loan for those who do not have their own.
Bring good mood and sporty attitude!
Prices 2020 – Camp for kids